I was going through my collection of fly-tying materials. As with most of you I have collected way too much stuff. But in doing this I decided to remove a couple of things that I don't use, or I have too much of. Then I thought there might be a young person out there who is just getting started in tying and that these items may be worth that person's time. They can hack away at these things and do their best to screw up a few flies (
)without being worried or careless about wasting the material as they have no investment in them. No cash concern as these things are free to that young person just getting started. So, if one of you folks know of that young person who is in need of a few items to fool around with please let me know and the may have them for simply postage. Let's call postage $20.00 to the CONUS. Sorry, no off shore folks. It's not worth the dollars or hassle. The first "I'll Take Them" for a young fly tier gets'em. All I need is the postage and the mailing address. Paypal works. They are boxed and ready to go!
Mark
Geeeze.... isn't there some kid out there who needs some tying stuff? Come on folks where are they? I'll eat the postage.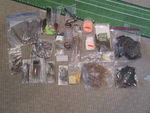 The photo isn't clear. There are ruffed grouse, turkey and wood duck feathers. Some synthetics, hen hackle deer hair, egg yarn, rabbit, calf fur, musk ox and a few other items.