Hi Guys! I finally finished up my Iconoglass 4wt build, my first ever rod build. It has an RL reel seat, REC ultralight guides, yli 100 for thread, and a grip I turned to roughly mimic a two digit Fenwick grip.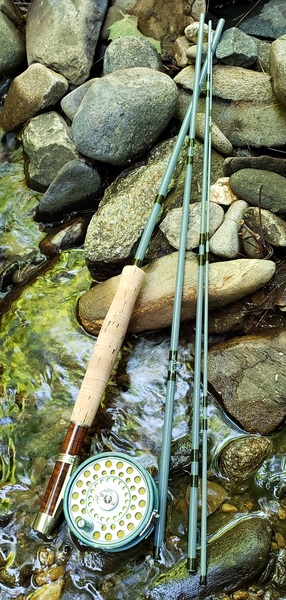 The rod balances very well with the heddon 310 shown, and the color scheme was built around the intention of using the heddon reel. Ive cast it with a rio creek 4wt but greatly prefer it with a cortland sylk dt4. With the sylk, it is easily the best roll casting rod Ive ever cast. Even though I have always fished small creeks almost exclusively, I never found myself roll casting. With this rod I seem to do it all the time.
I mostly fish two digit fenwicks, and I normally like those with lines on the heavier end of the spectrum. As a result, I was suprised to find that this rod is a very true 4wt in my hand. I also cant help but notice that the rod is signifigantly lighter than what Ive come to expect from vintage glass. Its fairly fast, but I never find myself needing to rush my casting stroke to keep up. I would never describe this rod as "stiff". I may eventually try it out with a DT5 to see how it feels, but it loads just great with a DT4. It is also one of the most accurate rods Ive cast based on lawn casting to targets.
A 12-14" rainbow like this one I hooked into in the first pool I fished with the rod will easily double it over, but I dont feel a lack of control. Its a light line rod but certainly no noodle.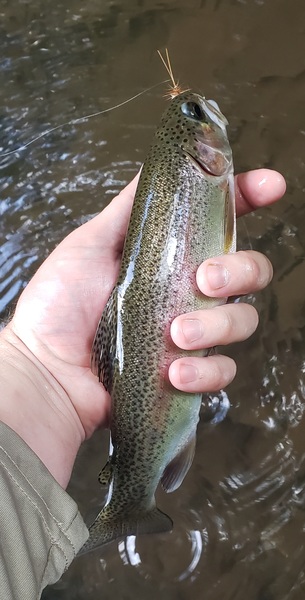 With the dt4, I have found casting bushy traditional dries size 10-14 easy on a 7' 5x leader. The rod was not bothered by a size 8 muddler head hopper on a 3x leader. With a stout 5' leader it easily cast a pheasant rump muddler with bead chain eyes tied on a mustad 34007 size 6. I wouldnt want to cast anything with a cone or lead eyes, but then again this isnt a cannon. Its a 4wt. For typical bushy dry + light dropper trout fishing, or even streamers given a little thought, this rod is awesome.
If this is what modern glass has to offer, Im in. It certainly wont be my last iconoglass build. A heavy weight for bass pond fishing may be next.