Hello Everyone,
Finally the full line of Yamame fly rods is a fact, it took more time than I thought.
All blanks are hand rolled and made in the US.
'' THE PURE''
The rod is a 4 piece full parabolic and is named "The Pure"because it is:
– Pure parabolic
– Pure craftsmanship
– Pure quality
– Pure love for the product
– Pure fun to fish with
The rod has a medium fast action with a great recovery and is full parabolic, is a bit stiffer in the middle and has a softer tip.This rod is highly accurate with dry fly and nymph.
The rod is available in a
6'8" 2/3wt 4pc 36gr/1.26oz Great for small streams and small native/brook trout and with a ultimate and delicate presentation…… and you will have so much fun
7'0" 3/4wt 4pc 42gr/1.48oz Made for some more general streams and some bigger fish and a bit more power than his little brother.
7'2" 5wt 4pc 52gr/1.83oz Special for medium size rivers with nice big trout in it, with this rod you can fish on many waters.
7'4" 6wt 4pc 57gr/2.01oz This rod I can give it the nick name "The Beast" it has ultimate power, control and cast also easy long distance.
With a aluminium tube between 20" to 23" inch section it is suitable to carry it in a backpack.
The Pure is brown tobacco e-glass with an orange glow and comes with white spigot ferrules. The blanks are all hand rolled piece by piece in the US.
" THE BLACK PEARL"
This model is available in:
8'9″ 3wt 4pc 42gr/1.48oz
8'9″ 4wt 4pc 50gr/1.76oz
8'9″ 5wt 4pc 61gr/2.15oz
These rods are made of black S glass and are with tip over butt ferrules and are 4 pieces the blanks are handmade piece by piece in the US. It has a medium action,is smooth with a nice recovery and a softer and fine tip. The rod is light and cast easy and very accurate in short and longer distance, especially with dry fly, small nymph. All these characteristics sound a bit "mysterious" therefore I the rods got the name "The Black Pearl" like the ship of the Pirates of the Caribbean what is also very mysterious and unbeatable.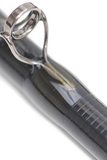 " THE TINY DEVIL"
5'6″ 3wt 3pc 16gr/0.56oz
This is a small and nice short rod. Great for fishing on bushy, small and tiny waters.
The rod is quick, accurate has a delicate presentation and easy to controle.