" For every complex problem there is a solution that is simple, neat, and wrong." H.L Mencken
Before I post my theory based on my own manufacturing experience regarding why there seems to be at least three G Series rods with the same identifiers that would indicate they were made and labeled in the same production batch but do not fit precisely in the timeline, I will digress into a little finance and accounting.
Tom has a G 166168
I have have a G 157303 and a G 166130.
Presumably made in 1966-1967 tackle year.
I agree with everything in Tom's post except for his comment on the wraps. I believe these are a version common only to this "batch"
Look closely at the FF90- and FF85-5.
Subtle but distinctly different.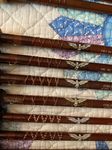 I have never seen a Serial Number lower than 1000. Someone just posted a B 1962. Maybe they started at 1 but starting at 1000 does not change anything.
Lets assume they made and labeled at least 165166 rods that year.
And Fenwick sold rods both retail and wholesale.
Worst case they sold all rods to retailers at 50% retail.
Approx. $25.00 each.
This is based on previous catalogs when they were either custom order or "Travelers"
That would mean $4,129,150 in Gross sales if they sold them that year.
Except company records only show about $800K in sales in 1967.
My belief is these were unsold overstock and possibly had the Voyaguer labels added when the Marketing Dept figured out a way to rebrand or quite possible that they made way to many G series labels and used them on actual later rods.
I am still pondering that one.