In this first installment, I will go over the tools and materials needed to make these poppers. There are several items you will need to make that will go into your "kit" that you can use each time you assemble a batch. You will also need to have some sort of motorized device to turn your flies after you epoxy them. I use a rod building jig with a motor. If you don't have something to keep turning the epoxy while it is curing, it will sag and become a mess and all your hard work will be for nothing. You can purchase an old rotisserie motor and make one for yourself if you don't already have something.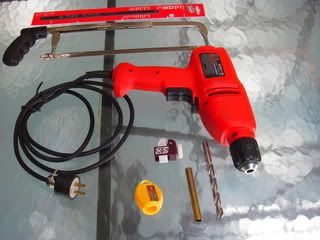 You will need some basic tools to get started. A hack saw, some 32 teeth per inch hacksaw blades, a power drill, a 3/8 inch drill bit, 3/8 inch brass tubing and a tubing cutter (both available at a craft store), and a carpenters pencil sharpener.
I purchase my balsa wood in a block from the craft store. This block measures 3 X 3 X 12 inches. You will also need a 1 X 1 X 6 inch piece of hard wood. The one pictured is oak.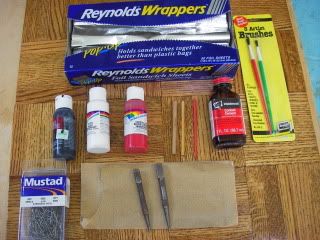 In addition you will need some thin foil. I like the precut sheets use for sandwiches or baking potatos. If you use thick foil, you will not get good results. Three or more colors of acrylic paints, wood or plastic dowels in at least 3 sizes (for painting eyes), rubber cement, craft brushes, 30 minute cure epoxy and a good quality waterproof glue such as Titebond III (not pictured), Mustad 34011 size 1/0 hooks, 150 grit sandpaper, and a knurled nail set or exacto knife.
Assorted colors of marabou, waterproof craft pens, a cone shaped (with rounded tip) grinding attachment for a drill, tying thread and bobbin.
I'm sure I've forgotten one or two incidentals, but these are the main things you will need. In the next installment we will make the necessary tools and get started cutting our balsa.