A few months ago an idea began brewing when I found out a dear friend of mine was diagnosed with cancer. As a show of support and an attempt to provide a bright spot in an otherwise very difficult time, I approached the Flymphforum.com gang to collaborate on a built as a group. I asked here for suggestions regarding long glass rods for fishing small soft-hackles and flymphs as my friend is a devout wingless-wet artist. He has been an inspiration to so many, it was not difficult to find people who wanted to join in the opportunity to show him some love.
Many of you noted (as I'm still a novice to this craft) that a glass rod longer than 9' in a light line wt would be ineffective and more than a few suggested looking to Mike Mcfarland for a recommendation. Without hesitation Mike suggested that he had been working on something very special, a new line of S-Glass that would be ideally suited to fishing small wet flies. His 9'2", 5wt 3 piece blank was going to be just the thing. He let me know that while has not offered these blanks for sale, he wanted to make an exception and was very generous in his offer. As a group we were very excited to have the opportunity to offer our friend a rod build on one of these blanks. And it certainly turned out to exceed my expections. A big thanks to Mike for his generosity and help with making what was going to be a modest rod into something very special.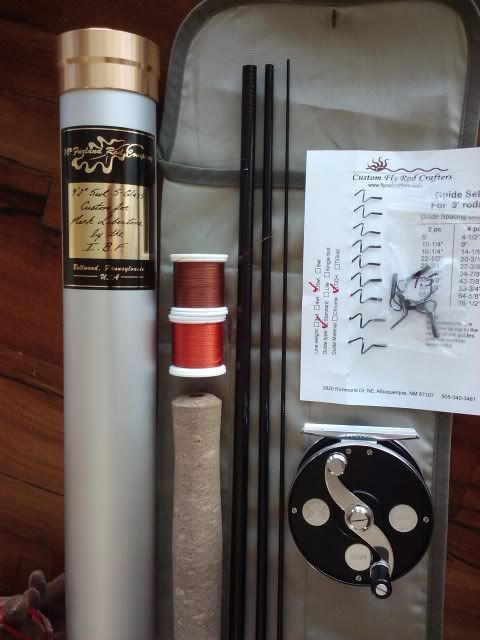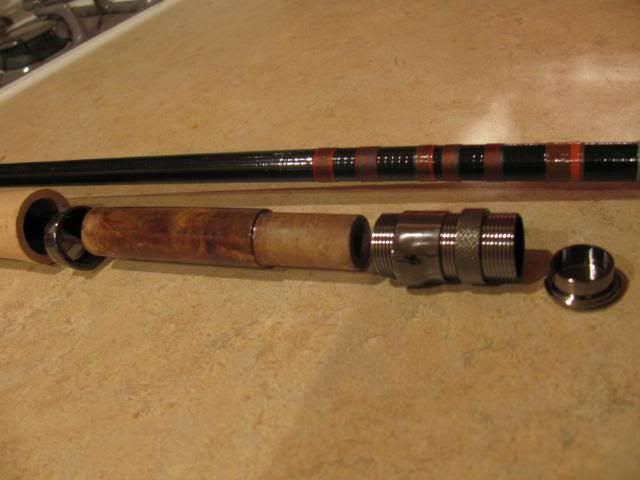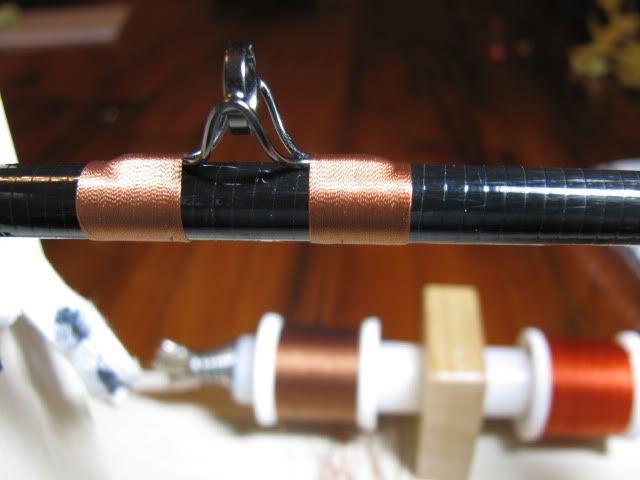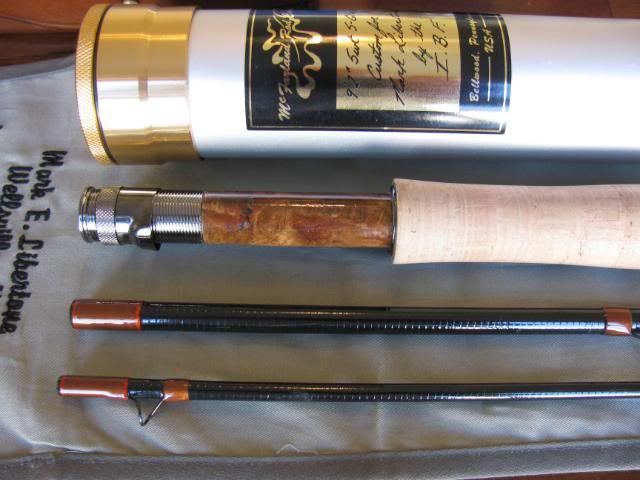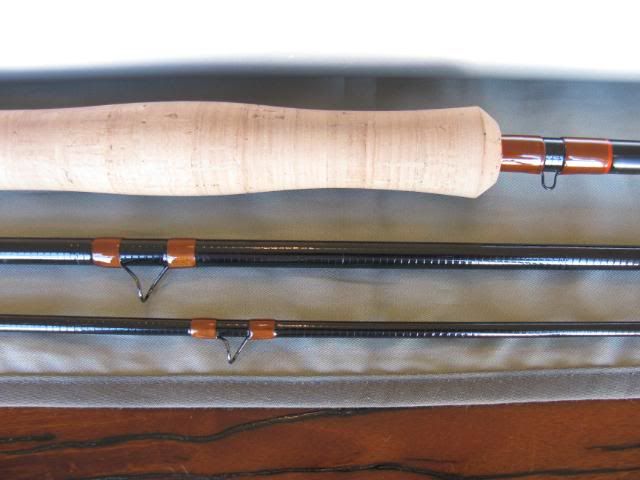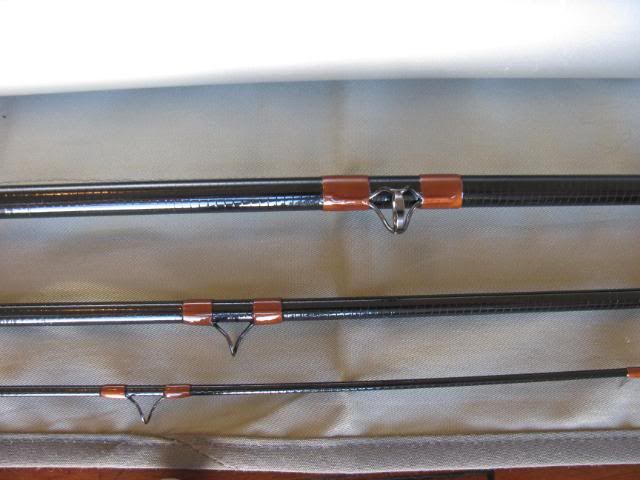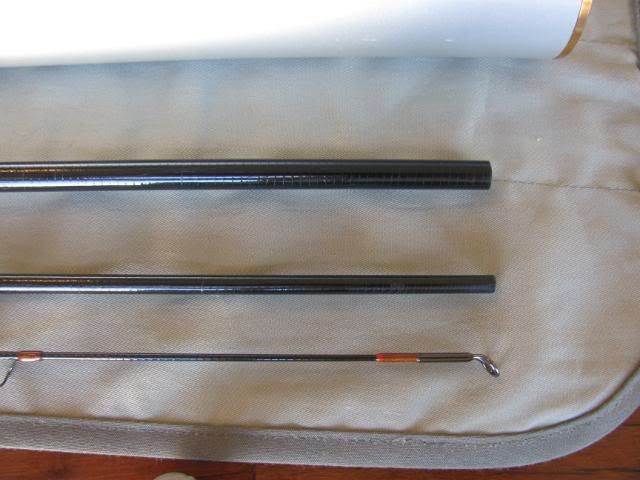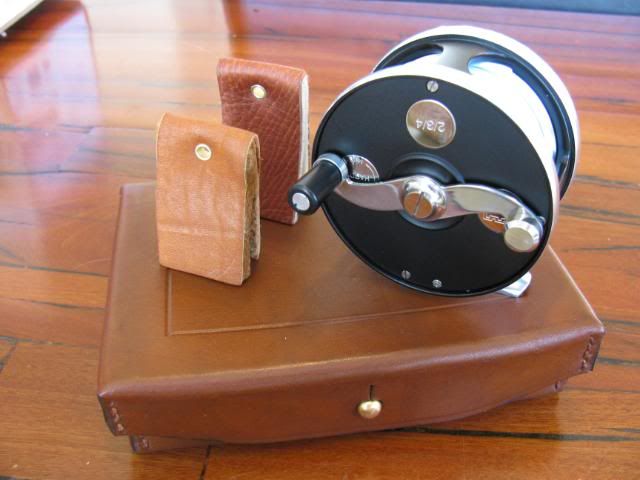 I initially wanted a 10' 3wt rod for the build and approached Hardy to inquire about getting one of their graphite blanks for this build, but they could not release any blanks. They did however want to help and offered an amazing discount allowing us to offer our friend a Hardy Cascapedia reel to match the rod. Others contributed to purchase the tube, rod sock, fly line (Mike recommended the Hardy matched line for this blank). You can also see the handcrafted leather fly box and friends from all over the world contributed with flies to complete the package. It's an amazing thing to see people's generosity and show of support.
(Sorry for the long post.)
I need to also note that WayneB turned the reelseat insert from a burled oak tree in his yard. A perfect match and top notch job.
I mentioned in the Fisher rod post the scheme for that build was a practice run for this one. The wraps are Size A nylon with CP and Spars. The TiCH stripping guide came from Golden Witch which makes for a very classic overall look.
Thanks for looking. Any imput for improvement would be greatly appreciated and is really the only way to justify such a long post. Again, sorry about that.
w