Recently, I've been obsessed with Sceptre rods, partly because my friend Buckley Juhasz was instrumental in their design and construction when he was co-owner of Anglersmail in the 1960s and 1970s. I own Sceptres in four sizes, but I have never had the opportunity to fish a nine foot Sceptre. Until now.
Fortunately, Andy Manchester Jr. -- noted rod maker and no stranger to the Sceptre rods -- still had a nine foot blank. I just had to have him build me out a Sceptre ala Manchester. The only instruction I gave him was to be true to the original.
Last week, the rod arrived -- and it was as beautiful as I'd hoped it would be. I took it out and lawn casted it with a 5 Weight line (the only handy reel I had was spooled with this) and despite being dramatically underlined, it cast like a dream.
But would it stand up to Buckley's rigid analysis?
I found out this past Wednesday, when Buckley and myself hit the local river for some brown trout action. But first, lunch, in the form of hamburgers cooked in three inches of grease. No joke. The place is called Crabill's and it is located in Urbana, Ohio, and if you are within 100 miles of it the trip will be worth your while.
The Mad River was in its final fall stages, filled with huge leaves which choked the water and made it incredibly difficult to cast. But after finding a likely hole, we hit the water (I was wet wading which Buck found insane). Despite a 30 mph wind and lots of detritus we saw rises everywhere. Lo and behold, there was also a caddis hatch. Here's the view from the 9' Sceptre's perspective.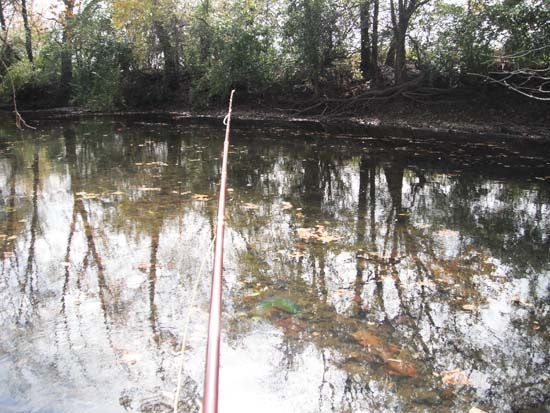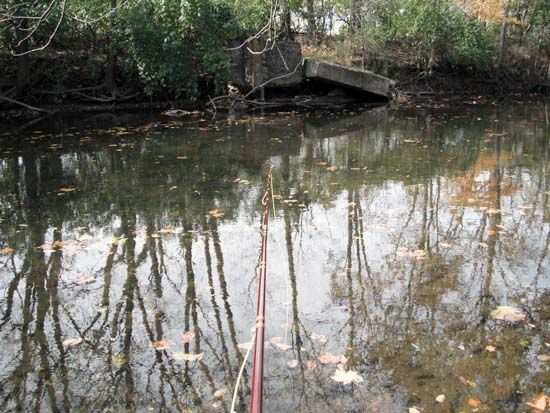 Fish everywhere, we fished nymphs (with a dropper) and a Letort Beetle for topwater action.
I matched up the 9' Sceptre with a Medalist 1495 and a 100-foot Rio 7 weight line. It was a great combo and I think this is the only reel I'll use for this rod in 7-8-9 weight. I love that interchangeable spools are so readily available for these old Medalists.
As it turns out, the fishing was tough. We got lots of hits on the nymphs but not many fish to hand. Nymph fishing in fast moving water with literally tons of underwater leaves makes for very challenging fishing conditions. We did get some fish, though, and here Buckley brings a 10-inch brown in.
So…what was Buckley's thoughts on the rod. "It's fantastic," was his appraisal, "my compliments to Andy." He used it for over an hour and, as he noted, he was constantly reminded about what great rods these Hardy Fibatube blanks make when in the hands of a master rod builder. As he is a lover of long rods (his go-to rod is a ten footer) he thinks this is the best length for a Sceptre rod.
Just how good did the rod perform? We were fishing a narrow stretch with lots of overhanging trees (I know this because I hooked them a half dozen times during the day). I was standing behind Buck and to his right when he said to me, "Want to see me spool your Medalist with the Sceptre?"
I laughed. "No way you can do that, with all the floating leaves and overhang and a 30 mile per hour crosswind."
Buckley laughed a bit and then prepared.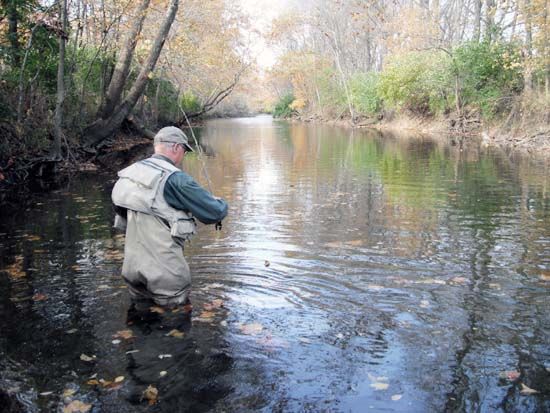 HIs first attempt caught a leaf on the line spooled at his foot. On his second attempt…well, don't believe me. Let's go to the video replay:
100 feet of line effortlessly floating out, under very trying conditions. "This is what happens when a quality blank meets a quality builder. This is a rod that can fish a 6 through 9 weight equally well."
Buck went on to say that Andy built a rod that could be used for fishing redfish on the Florida flats, steelhead in Lake Erie, brown trout in the Mad, bass in the Little Miami, and delicate brookies on dry flies wherever they may be found. "It's as close to the most versatile rod you're going to find," he said. "It's exactly what we hoped for when we designed the Sceptres."
I think of that at the end of the day. 5 1/2 hours of wet wading and my extremities are blue, but I take extra care to make sure I put up the Sceptre safely. This is a rod I will use on a regular basis.
Andy Manchester Jr. is a terrific rod maker and this 9' Sceptre combines the best of vintage glass with a modern build. How can you possibly go wrong with that?
-- Dr. Todd